BDS - Dental Admission test 2019 - 2020 Question 100% Correct Solution download
Dental - BDS Question solve 2019
ডেন্টাল - বিডিএস প্রশ্ন সমাধান ২০১৯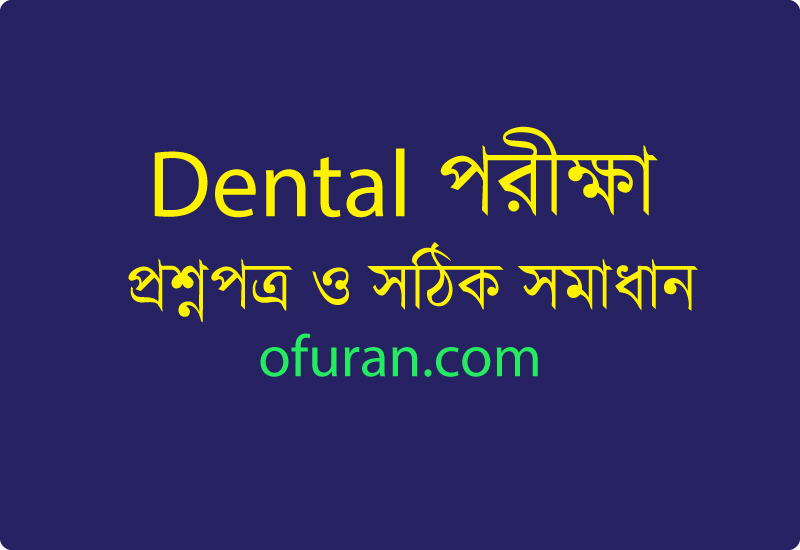 BDS - Dental Admission Test was held 01 November, Friday. Solution - Solve of BDS - Dental Admission Test Question 2019 - 2020 is given here. Match these answers with your given answer in the answer scripts.
Banned / Suspended Medical Colleges
BDS admission test 2019 result will be published after 48 hours from the exam finished. Plz take no tension. Just feel free and sleep a good sleep this time.
BDS Result 2019 Download
BDS question 2019 and 100% correct solution by some meritorious students of Dhaka Dental College.
Bangladesh and India Seat Mohol numbers - 162

Length of Padma Bridge - 6.15

Organic Acid decarboxylation - alkyne

Shishu dibos - 17 march

Food preservator - Sodium Benjoyet

Glysarin indentification - acroline

National Bird of BD - Doel / Magpie

I have told you twice. Twice - adverb.

Milk of lime - Ca(OH)2

Deceive mean - Protarona

Intrepid antonym - afriad/fear etc

Not in Thairoied bland - Oxytosin

Himophilia factor - factor-ix

Beware - of

Which is found in Mangrove? - Heriteria fomes

Strict antonym -

Where is found goblet cell?

Which cyle is related with Uria?

Which is not an antigen?

Bikar pipet - pirex.
Full solution is coming soon. BDS exam Full solution has been given below.
See More -
BDS / Dental Admission Test Result 2019 - 2020
Good luck for your BDS/Dental result.
The following question is for session 2017 - 2018
See More -
BDS / Dental Admission Test Result 2017 - 2018
MBBS Admission Test 2017 - 2018 100% Correct Solution